PDF Decrypter Pro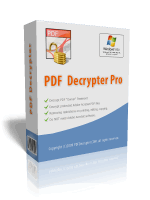 PDF Decrypter Pro can be used to decrypt protected PDF files, which have "owner" password set, preventing the file from editing (changing), printing, selecting text and graphics (and copying them into the Clipboard), or adding/changing annotations and form fields. PDF decrypt is being done instantly.
Decrypted files can be opened in any PDF viewer (e.g. Adobe Acrobat Reader) without any restrictions --- with print/copy/edit functions enabled. All versions of Adobe Acrobat are supported.
PDF Decrypter Pro does not rely on any other third-party software, of course, Adobe Acrobat and Reader are NOT required.
Click here for Introduction to PDF security
Key Features
Remove the security settings from your encrypted PDF file is instant.
Support PDF1.8 format (formerly only supported by Acrobat 9.0 application).
Support includes 40-bit RC4 decryption, 128-bit RC4 decryption, AES decryption, compressed files, and unencrypted metadata.
Decrypt protected Adobe Acrobat PDF files, removing restrictions on printing, editing, copying.
All processing is done locally on your PC without uploading to the cloud to ensure security for important PDFs.
Support drag and drop PDF files.
Support Windows 11/10/8/7/Vista/XP. (support 32bit & 64bit)
Support Mac OS X 10.8 or later.
Screenshot for Windows
Screenshot for Mac OS X

Tips
:
PDF Decrypter Pro
is a
Windows and Mac OS X application
for decrypting the owner password and Remove Print, Copy, Edit restrictions of PDF files. If you are looking for a
developer SDK
to Remove PDF Owner Password and Remove Print, Copy, Edit Restrictions in your Desktop/Web Applications, please free trial
PDF Decrypt ActiveX DLL
.
Tutorial
Article
Reviews

PDF Decrypter Pro - a useful PDF decryption solution is a stand-alone program to decrypt PDF files and allow users to print, copy, edit Adobe PDF files freely. With the PDF decrypter tool, the process to decrypt pdf owner password, decrypt encrypted pdf. decrypt pdf files is easier & simpler. PDF Decrypter Pro successfully decrypt pdf files of Acrobat version up to 9, even with 128-bit or 256-bit encryption. Software is an extremely easy-to-use PDF decryption tool. PDF decrypter Pro tool to decrypt pdf owner password do not need Adobe Acrobat reader to be installed in a machine. Users can run the PDF decrypter Pro software on any version of Windows 11/10/8/7/Vista/XP.